Pro Watts provides the technical expertise necessary for designing and building reliable and cost-effective modern power systems for renewable energy generation, interconnecting substations and transmission lines. Our services include consulting during planning stages, documentation for regulatory approvals, power system analysis, electrical, civil and structural detailed design, support during procurement and technical scope of work, construction oversite, commissioning and testing, post commissioning support. Our specialized multidisciplinary team will improve efficiency and reliability of your facility.
Project technical feasibility study
Capital expenditure estimates
Expenditure forecasting during project development
Post commissioning operational expenditure estimates
Technical requirements and specification for regulatory approvals
Insurance technical requirements
Preliminary Protection & Control and communication network architecture
Power System Modeling and Studies
Simulation and modelling of load flow
Short circuit and dynamic studies relating to the development and grid connection of renewable energy projects
Development of application specific electrical models, software library models and vendors' models of generating plant as required by grid authorities as a part of the connection and compliance processes, testing, validation, documentation, and reporting
There are special considerations designing systems for the Renewables market that require acute attention to the type of renewable, reliability and redundancy. We offer complete collector system and grid connection detailed engineering, pre-construction and construction engineering, commissioning and post-commissioning services.
Complete electrical detailed design and construction oversite
Interaction with grid authorities' specialists
Generating plant layout and general arrangement
Component specifications, design of reactive power compensation, fault-ride through, and dynamic response capability studies
Smart Grid – Microgrid Integration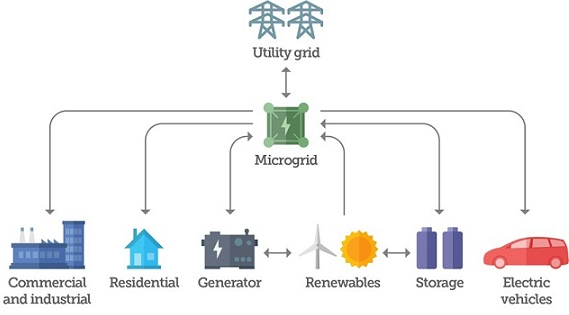 Microgrid consists of group of multiple distributed sources with interconnected demands. It is operated either in stand-alone mode or grid connected mode. Microgrid can be defined as a system or a subsystem, which incorporates single, or multiple sources, controlled demands, energy storage systems, security and supervision system. These elements and subsystems make microgrid operational in utility integrated or isolated mode. We offer Integrated multisource generation solutions engineering for small to medium scale behind metering and on grid solutions. Utilizing latest advancements in microgrid including the Industrial Internet of Things (IoT), artificial intelligent technics, communication networks, Pro Watts makes possible to build advanced microgrids capable to operate independently from the grid and integrating multiple distributed energy resources.
Energy storage is critical to realizing clean energy future. As renewable power sources like wind and solar provide a larger portion of electricity, storage will allow clean energy to be available when and where it is most needed. Energy storage allows a low-cost power generator to store electricity for later use to meet electricity demand at peak hours. This flexibility has the potential to revolutionize many setbacks that power generation systems face. There are many types of energy storage: batteries, thermal, flywheel, pumped hydro power, compressed air and more. Pro Watts' multidisciplinary team can take care of all technical requirements for the successful integration of these technologies to local utility, transmission or behind metering application.
Renewable energy solutions Medium high voltage engineering Power System Studies Substation Design Substation solutions